I thought Id start out by writing about they systems and the games I own. I am always expanding my collection and would gladly accept any donations. If that sounds like a solicitation for free games.... well it is.
Anywho Ill tell you a little about each system and Ill end up reviewing the games a little later. For now courage!
First up is My oldest system the
Odyssey 2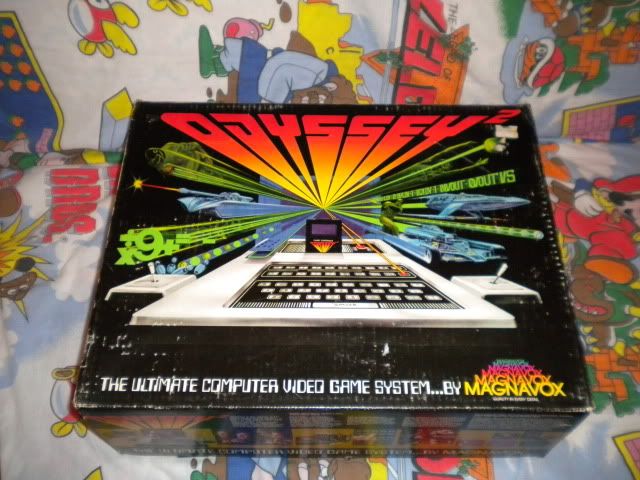 The Odyssey 2 was released in 1978 by Magnavox. It has two joystick controllers that are hardwired into the console. The console is unique in the fact that it has a keyboard on it possibly to make it look like a computer, but it can be used for word type games. The Odyssey 2 was one of the first game systems I ever had. Right now my Odyssey is not working it could be the fact that it is 30 years old but Im pretty sure I just need a new RF adaptor for it. Once it is running again it will be glorious!
Odyssey 2 Games
Speedway!/Spin-Out!/Crypto-Logic!- a 3 in 1 cartridge
Casino Slot Machine!
Las Vegas Blackjack!
Conquest of the World- part video game part board game pure fun
Next up
Game Boy
Game boy came out in America in 1989 it was big, bulky and grey with a yellow and green screen. Gam boy took four batteries or could use an ac adaptor. I bought mine in 1990 and its big, bulky and grey with a yellow and green screen and I couldn't love it more.
Game Boy Games
Adventure Island
Baseball
The Castlevania Adventure
Dr. Mario
F-1 Race
The Jungle Book
Kid Icarus of Myths and Monsters
Pokemon Red
Ren and Stimpy's Space Cadet Adventures
Solomon's Club
Super Mario Land
Teenage Mutant Ninja Turtles Fall of the Foot Clan
Tetris
True Lies
Wario Blast
Yoshi
Next up:
Game Boy Advance
Now Game boy Advance was originally suppose to come out in 1996 as a follow up to the Game boy Color. It entered American markets in 2001 to much acclaim. Game Boy Advance was backwards compatible which meant it could play old Game Boy games as well as new and it only took two batteries. I pretty much used it to play old games instead of new ones hence the small collection.
Game Boy Advance game(s)
Castlevania: Circle of the Moon
Next is
Game Gear
If you thought Game Boy was huge you never played Game Gear. Sega put out Game Gear in 1991 and its the size of one and 1/2 Game Boys. This big bad mutha was back lit, which meant you could play in the dark, the graphics were much better than Game Boy. It also took six batteries which died in about half an hour as opposed to Gameboys 4 batteries and ten hour game play. Game Boy came on to the market at about $80 and Game Gear $150. But the games were still awesome warts and all.
Game Gear Games
Battletoads
Castle of Illusion staring Mickey Mouse
The Majors Pro Baseball
NBA Jam
Sonic Chaos
Sonic The Hedgehog
Sonic The Hedgehog2
Surf Ninjas
Now up
Sega Genesis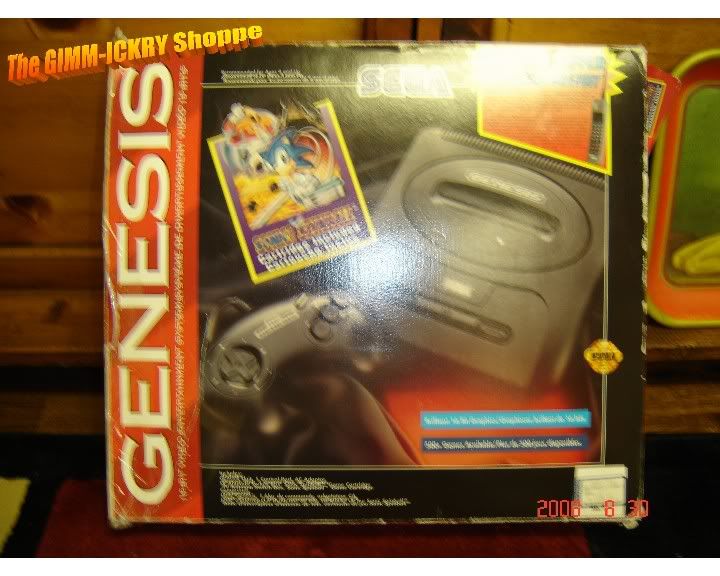 Now this was and is my main system. I loved this thing. As of recent my sound card stopped working so it sounds awful. But I have a new system of sorts that Ill talk about in a bit that lets me play Sega games. Sega came onto the market in North America in 1989 and it was full of 16bit goodness. With Sonic the Hedgehog it was the first major competition for Nintendo.
Sega Genesis games
The Adventures of Batman and Robin
Aladdin
Animaniacs
Bart's Nightmare
Batman Forever
Beavis and Butthead
Boogerman: A Pick and Flick Adventure
Fantasia
The Jungle Book
Jurassic Park
The Lion King
Mighty Morphin Power Rangers
Monopoly
Mortal Kombat
Predator 2
Primal Rage
Shaq Fu
Sonic the Hedgehog 2
Sonic the Hedgehog 3
Sonic and Knuckles
Sonic Spinball
Spider-man/X-men: Arcade's Revenge
Splatterhouse 2
Street Fighter 2 Special Champion Edition
Taz in Escape From Mars
Teenage Mutant Ninja Turtles: The Hyperstone Heist
Teenage Mutant Ninja Turtles: Tournament Fighters
T2 the Arcade Game
Toxic Crusaders
X-men
Wacky Worlds
Many of you may be wondering, "How can he play all of those Sega games if his system does not work?" Well dear reader let me inform you of a nice little bootleg system called:
FC3 Plus.
The FC3 plus can play Nintendo (NES), Super Nintendo (SNES), Sega Genesis, and G-Factor Games. It was put out sometime after 2006 by the Yobo company. There are disputes that some games don't play on the FC3 plus, I cannot verify that at this time but I can say that the SNES controls are backwards. Its like driving a car with the gas and break pedal switched. You also have to use the controls that came with the system. You cannot use your old Sega/etc. controllers on here. Not the biggest deal but you cannot use you old mouse for Mario Paint (making it unplayable) or power glove, or Turbo pads, whatever. The other issue I have is the control cords are like two feet long so you have to make like you are six and sit right in front of the television. Otherwise its awesome and I love this thing.
NES Games
Blaster Master
Castlevania
The Goonies 2
Jim Henson's Muppet Adventure "Chaos at the Carnival"
Jurassic Park
Kirby's Adventure
Monster Party
Paperboy
Shatterhand
Toxic Crusaders
SNES games
Super Game Boy
Super Mario World
Zombies Ate My Neighbors
Zoop
Now entering the 21st century
Playstation 2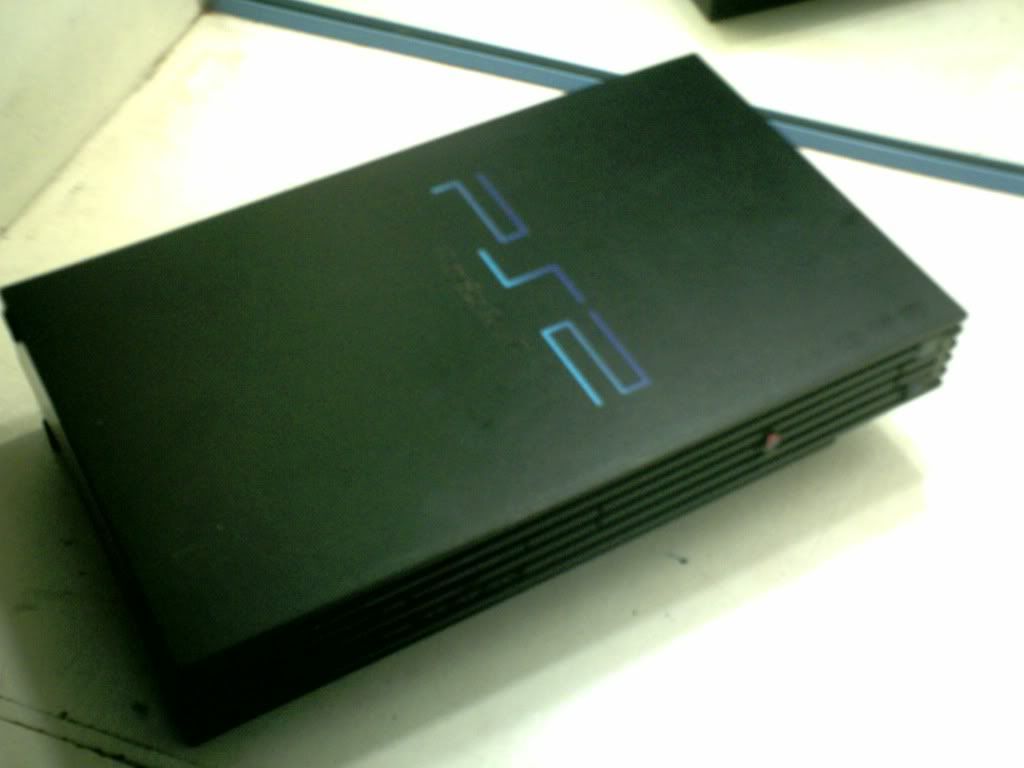 I ended up getting a Playstation 2 (PS2) when I worked at the video store. I ended up renting more game than buying them and I usually just went back to playing my Sega. The PS2 hit the North American markets in October of 2000 it will be one of the first systems to have games available on it ten years later with 20 games announced for 2010.
PS2 games
Celebrity Deathmatch
Evil Dead Fist Full of Boomstick
The Family Guy Game
Guitar Hero
Guitar Hero II
Guitar Hero III Legends of Rock
So I hoped You enjoyed my game list. Hit me up if you want to donate/give me any old games that you have that are just collecting dust. Also let me know if there is a particular game you want me to review.
Until next time,
courage.
Zack